After an introductory workshop on journaling, facilitated by Anita Sheehan, I produced the following poem with drawing.  It has been shared with many (and even translated in Portuguese by a Brazilian colleague).  Afterwards, I have adapted the poem to read in a workshop by Mahnaz Bhatti to people learning to become coaches.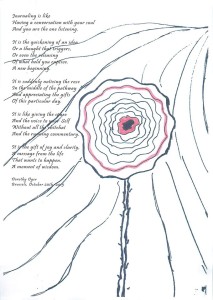 Journaling is like
Having a conversation with your soul
And you are the one listening.
It is the quickening of an idea
Or a thought that triggers,
Or even the releasing
Of what held you captive.
A new beginning.
It is suddenly noticing the rose
In the middle of the pathway
And appreciating the thousands gifts
Of this particular day.
It is like giving the space
And the voice to your Self
Without all the chitchat
And the running commentary.
It is the gift of joy and clarity,
A message from the life
That wants to happen.
A moment of wisdom.