Can Love change Hate? Open Mic
On June 15th, 2016, I was one of 16 potential TEDx speakers chosen from 40 candidates to pitch their talk for 3 minutes in Deventer, Netherland.  The audience, almost 200 strong, voted for their three top favorites, and I was lucky to be one of the top three.  So, together with Rob Tuitert, designer of a new generation of play equipment, and Fransje Immink, an art teacher building a community of pioneers with students for people in crisis situations,  I received an invitation to speak at the TEDxSaxionUniversity Conference in November.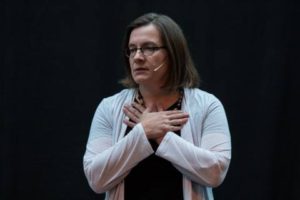 You can find the 3 minutes pitch on my Youtube channel – with subtitles in several languages.
TEDx conferences are TED-like events held worldwide by local, independent individuals, organizations and communities.  TED's mission is to provide a platform for "Ideas Worth Spreading" and to support initiatives that leverage the power of ideas.
" TEDxSaxionUniversity is an international stage for people with inspiring ideas from and around Saxion University of Applied Sciences in the Netherlands. TEDxSaxionUniversity is an independently organized TEDx event."  
I warmly and highly recommend  the team at TEDxSaxionUniversity : they make sure to provide the best experience for the speakers and the audience, with high demands for quality and relevance,  while working with passion and generosity.