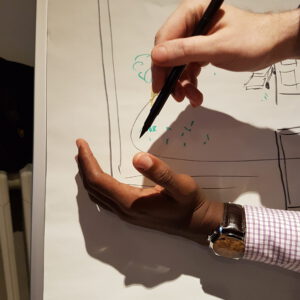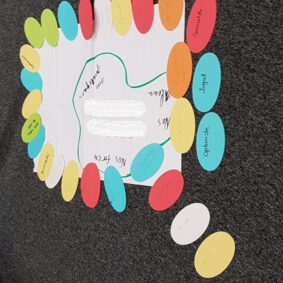 We facilitated a series of workshops in French, English and Dutch, around change for the Belgian branch of a German organization in the service industry.
The objective of the workshops was to provide knowledge and tools  for dealing with the shocking news about restructuring, so for being resilient in the face of change.  And to connect the participants with the new values and vision defined higher up.   (The process for the latter was not in our hands).
So we designed a workshop for limited number of people (max 12, but usually 8), with a lot of interactivity and space for "unloading", with embodied conversations about the values and practices, with the use of imagination (drawing and metaphor building), and with a focus on existing strengths within each individual and among participants.    We also made sure the participants were from mixed teams so as to build bridges and connections between teams and between functions (expertise).
For a majority of the workshops, we could rely on the support of one or two Change Ambassadors from the organisation to co-facilitate aspects of the workshop and to gather and share the outcome.   For them it was a way to practice facilitation skills, to listen to the needs and to contribute to a positive mindset.  Based on this, we gathered specific tips and actions or rituals for supporting communication between people, as well as being able to identify the thematic red threads and recurrent questions to be relayed by the Change Ambassadors.
In particular, the participants enjoyed the participative and interactive aspects of the workshop and getting to know each other.  It allowed them afterwards to solve problems faster and to create or renew their sense of belonging.  Being able to put words and concepts on what they were experiencing was also important to them.