This poem in French was written at the end of the first day of a 2-day workshop on the "Art of Harvesting Meaningful Conversations" in Paris, France.  This is a reflective harvest on the closing circle of the first day and on my own experience with "harvesting".  It took me a while to get started as I needed to find a hook, so I worked on the poem in the late evening, trying out some verses, reflecting, daydreaming, trying out some new verses, until I got a line that got me the rest.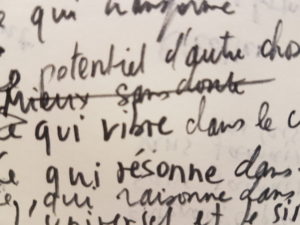 Nous, récolteurs de sens,
Nous cherchons dans le vivant
Ce qui bouge
Ce qui transforme
Ce potentiel d'autre chose
Dont nous n'osons pas rêver seuls.
Nous, récolteurs d'essence,
Nous cherchons encore et encore
Ce qui raisonne dans la tête.
Les moments qui font sens.
Ce qui vibre dans le coeur
Et résonne dans le corps.
Nous, récolteurs de collectifs
Nous cherchons le singulier
L'unique tout universel,
Ce qui nous fait prendre conscience
De notre histoire, de notre présent.
Du nous en devenir.
Dorothy Oger
Paris, le 23 octobre 2017